Hey ya'll! Welcome back to 528squarefeet, a blog dedicated to the simple life. Can you believe that it's been a year since I last posted?? Okay, that was quite a cheesy joke I just couldn't resist!
HAPPY NEW YEAR!
When we last spoke, I showed you my pretty little planner Zesty! If you're visiting for the first time today, you can check that post out
here
, before we continue! A lot of you have been asking me what type of planner Zesty is, and I feel like such a ditz for not mentioning it!
Zesty is a Filofax Finsbury in yellow. She is a discontinued planner that I purchased from an amazing woman off the buy/sell Filofax Facebook Page. There are TONS of facebook pages that you can find where fellow planners/filofaxers can buy and sell their used planners! It's a beautiful thing...at least to me. :)
In my last post I promised to give you guys a special tour through my planner so that you can see my set up, and how I use it!
So, without further ado. Let's get to it!
I love the color of this fins! It changes depending on the light, but it's so bright and cheerful I can't help but want it within reach at all times!
This is the side view so that you can see how thick it is! It's not too chunky, but it's got some bulk to it! Oh, and sorry about my phone, you'll see it a lot since my finsbury isn't trained to lay all the way flat just yet! (PS. I love the Little Mermaid!)
I absolutely love the top of my planner! It has so many tabs and page markers giving it such an eclectic vibe. If you don't know already, I did a black, white, and yellow theme throughout the entire thing! Let's open her up!
Nothing special on the inside dashboard, I just mounted some Target DollarSpot page flags onto a homemade divider, and used a star paperclip to keep a Project Life Card on the front as well! Once again, aren't those top tabs the best? I also love the little bit of sparkle I get from my washi taped divider tabs, and my cute crystal pen! I scored that pen at Michael's for $2!!
Immediately behind my dashboard I keep a stocked page full of page flags and sticky notes! Every last one of those sticky notes were RAK'D (Random Acts of Kindness, aka, given), to me by the same awesome lady who I purchased the planner from! My next divider marks my CALENDAR section. The first thing I have in there is MsWenduhh's 2015 yearly overview calendar! The image below is a clickable link to download it yourself for FREE!
I use this basically to have a quick reference for work breaks and school vacations!
I want to apologize for my poor lighting, however, using my phone for pictures is the best I can do at the moment! Saving up for a better camera, ya'll! Anyways, immediately behind my yearly overview I have my "month at a glance" section. These inserts are a part of the "Amazing Life" collection by
DIYFish
on Etsy! Here is where I quickly pencil in
any
appointments, special days, events, paydays, bill due dates, etc. I use these pages as a reference point to fill out my next section a week on two pages.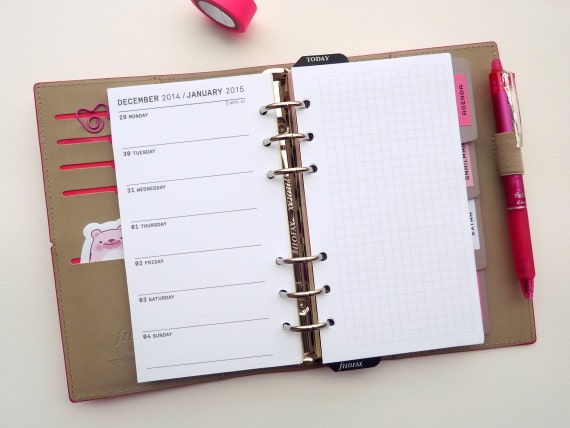 I would love to show you how it looks like sitting in my planner, however, once again, my lighting tonight was terrible! These inserts are from
whatshewas
on Etsy! They are an instant download and a printable you cut and punch yourself! I love these printables because of the graph paper on the right! I write so much neater with gridlines, and I can make more even lists on them!
Here is an example on how I've been using these inserts! I use a project life card for to do lists, the left dated side for important happenings/reminders, and then I use the grid to jot notes, write my daily Bible Readings, decorate, draw, etc. Since this is the first week of the year, I decided to use the grid to write my New Year's Resolution.
See I used to make New Year Resolutions every year, and I NEVER, EVER, EVER stuck to it. That is until last year when I happened on a website dedicated to "
One Little Word
." One little word is about New Year's Resolutions. The only difference is that instead of dedicating your year to one specific goal, you dedicate your year to one specific word.
Last year I chose the word "Conscious", which spurred this whole simple living journey to begin with. I made it a personal goal to become more health conscious, spiritually conscious, conscious of who I am, conscious of what I using, buying, eat, drinking, etc. etc. It was a huge success! I am healthier, more in tune with God, and downsized from a 1500 square foot home to a 528 square foot home.
So - this year I have decided to dedicate my year to the word "SIMPLE".
I want to
Simplify my Life even more by

dowsizing my wardrobe
simplifying my idea of "healthy"
I want to begin noticing and documenting the "little things"
I want to spend more time for me

spiritually
physically
etc.
In essence I want things to be simple, more simple.
Which brings me to my BIG NEWS!
I am starting a NEW COLLABORATION with some of the most amazing women ever! I currently am working with
Each of these ladies are so inspiring in their own way! And each are going to be guest posting here at 528squarefeet to share their experiences and expertise in "simplifying" different section's in our lives!
I HIGHLY recommend you go check out their blogs to see the super awesome things they have going on over there! Ash, over at Blush and Bling is an up and coming fashion blogger that is going to be showing us how we can simplify our wardrobe but still maintain our style!
Janette is a super crafty wonder woman, that is going to be discussing how we can simplify and downsize our planner obsessions.
And last but DEFINITELY not least, Kelly is going to be stopping to talk about her INCREDIBLE weight loss journey with tips and tricks on how not to over complicate the process! She's going to be simplifying our health ya'll!
I hope you're just as excited as I am about this blog series because I'm going to leave you guys with that! I hope you come visit me on Monday to see the rest of my planner and how I've been setting unique goals and check points to reach a more simplified lifestyle by next year!
Here's to the simple life!
Love,
Aubrey